We always want EU-Rentals to be as effective and user-friendly as possible, and that's why we never stop improving things. Take a look at our latest exciting features below, and if you've got any comments, questions or suggestions, please contact us at https://www.eu-rentals.com/contact
Energy performance certificate.
You can add information about the Energy Performance Certificate for each of your properties.
Edit your property and find the relevant field under the surface field, select the value and save.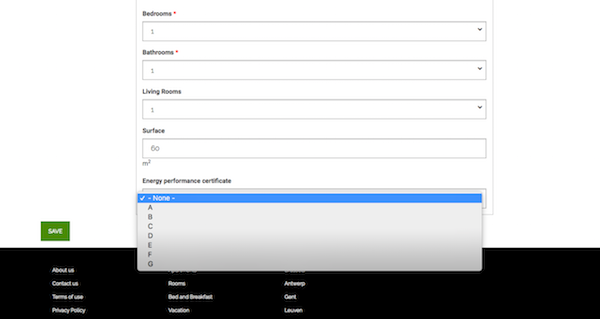 The Energy Performance Certificate will then be visible to anyone who views your property advertisement.
Login with your Email address. 

We've noticed that some property managers are experiencing difficulty when attempting to  login into our website
In order to deal with this, we have made it possible to login using a registered email address. This means that if you don't know your username you can still log in using your email address and your password. 
If you have any further issues with the login process, please contact us https://www.eu-rentals.com/contact.
From the beginning of the year, we've highlighted Featured Properties on our website. Choosing to promote your property in this way means that it is included in our mailing for a specific period, as well as being highlighted within the site itself. Alongside the extra exposure and promotion, anyone who takes advantage of this offer will receive dedicated email stats. To find out more about what has proved to be an extremely popular service, see the information here.

Visit: https://www.eu-rentals.com/content/promote-your-property
Although we've established ourselves as a leading rentals site, we've decided to branch out and open a sales section, where you can list those properties which are available to purchase.
Visit https://www.eu-rentals.com/properties-for-sale
We're always on the lookout for viable partnerships which can be beneficial to both EU-rentals and the partner in question. If you're interested in working with the a rapidly growing rentals listing site which is the best in the business, then get in touch and we can share our ideas.
Other updates in short:
Send to a friend - users can send your property to their friends or colleagues via forwarding as many as 600+ emails in 3 Months.
Add to favorites - users can add a property to their favorites
New Messaging system on the back-end
Unlimited picture upload facility for every property