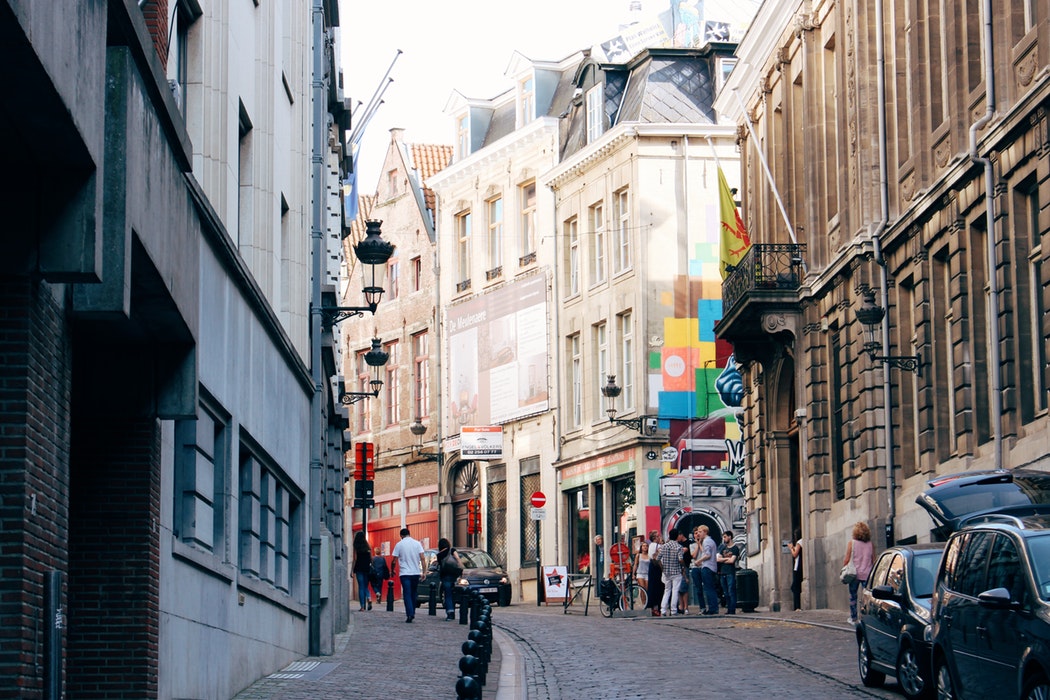 Belgium is a genuinely multi-lingual country, something which is particularly true in a city like Brussels and which is driven by the presence of international corporations and bodies such as the EU and NATO. Officially, the country is divided into different linguistic regions. The five provinces in the north and northeast of the country have Dutch as the official language, and these are:
Antwerp
East Flanders
Flemish Brabant
Limburg
West Flanders
In the five Walloon provinces in the south, French is the official language, and these provinces are:
Hainaut
Liège
Luxembourg
Namur
Walloon Brabant
The city of Brussels and the area surrounding it are legally a bilingual region, although individual towns within the region might favor one language over the other – a choice which can shift following the latest local election results.
In each designated region the majority of residents will speak that language and the road signs and official literature such as government leaflets will be produced primarily in the designated language. Most cities in Belgium have both a French and a Dutch name, with approximately 60% of the population speaking Dutch, 40% speaking French and as tiny 2% opting for German.
In Brussels itself, French is probably preferred to Dutch, thanks to the presence of many international organizations which opt for French as a first language. It's also true that English is very widely spoken in Brussels, and with 20% of the population able to speak at least 2 major languages, it's safe to say that being able to speak French, Dutch or both, or at the very least brushing up on any basic grasp which you might already have, will be hugely advantageous when it comes to finding a job, somewhere to live and making use of services.
Getting Started
If you want to improve your French or Dutch language skills then the first place to visit is undoubtedly one of the French or Dutch language Houses. The French House is known as Maison de la Francité, and the Dutch Huis van het Nederlands. These institutions were set up by the French and Dutch-speaking communities and provide a wealth of information on the language programmes which are available. They will assess your educational level, where you'd like to study, how often you can attend lessons and why you wish to learn the language and use this information to point you in the right direction.
Although visiting in person will always prove useful, both institutions provide online directories of courses, which can be accessed on the relevant websites:
French - http://www.maisondelafrancite.be/fr/
Dutch - http://www.vgc.be/
Free Learning
Although there are many institutions offering tuition which can be paid for, it is a sign of the forward-thinking attitude toward language learning within Brussels that it is possible to access learning for free. If you live within one of the 19 Brussels communes you can access Dutch beginners courses as part of the Dutch as a Foreign Language programme, which is administered by the Flemish Continuing and Basic Education Centres (CVOs). The Brussels Education Centre is based at the Etterbeek campus of the Vrije Universiteit Brussel (VUB).
Regional employment offices – known as Actiris, VDAB and Forem in Brussels – offer a range of free language courses to people registered as jobseekers. If you are about to start a new job they will also provide as many as 60 hours' worths of language lesson vouchers which can be exchanged for free group or private lessons in Dutch, French, English or German. It's also a good idea to ask the company that you work for about language lessons. Within Brussels, it is fairly common for employers to pay half – and sometimes even more – toward the cost of employees' language courses.   
Unsurprisingly, there are more language schools in Brussels than anywhere else in Belgium and most of them teach the three official Belgian languages.
The number of schools on hand makes it easier to find a course which suits your preferred style of learning, whether that's intensive individual sessions, written theory or off-site online learning. All progress will be assessed using CEFR, the Common European Framework of Reference for Languages: Learning, Teaching, Assessment, which is the set of guidelines in use across Europe.  
Many teachers who work with language schools also teach on a freelance basis and will be happy to offer private lessons. Once you start learning the language of your choice it's important to make sure you practice as much as possible. Everyday life presents plenty of opportunities, of course, but there are also language exchange groups such as Franglish, Brussels French Language Meetup, Language Café, Brussels Language exchange and Brussels Tandem. These are a great way of honing your skills in a relaxed and informal setting, as well as offering the chance to meet new people.  
The following is a list of the main language schools in Brussels:
Alliance Française
Alliance Française has been providing French lessons since 1945. Although the prices for group or private lessons may be higher than at some other schools, courses do come with the added bonus of the fact that the Alliance Française certificate is an internationally recognized qualification.
Where: Avenue des Arts 46, 1000 Brussels
Online: www.alliancefr.be
Amira Language School
The Amira Language School offers a step by step programme which you can pick up at a point which is ideal for your existing language abilities. They teach in one to one sessions or through group sessions which are still small enough to allow for sufficient individual focus.
Where: Rue du Trône 14–16, 1000 Brussels
Online: www.amira.be
Berlitz
The Berlitz international language academy offers lessons in Dutch, English, French, German, Spanish and Italian. Classes will be tailored to meet your requirements and will be delivered at the headquarters in Brussels or at your own place of work, and they also offer classes to children and teenagers.
Where: Avenue Louise 65, 1050 Brussels
Online: www.berlitz.be
Call International
Call International has been running since 1987 and offers courses in a wide range of languages, including non-European. They offer a choice of general language courses or those which are tailored to particular professions such as business, medical, legal and banking, or to dealing with technical terminology.
Where: Avenue Louise 65/11, 1050 Brussels
Online: www.callinter.com
Centre d'Etude du Francais (CEFR)
The CEFR provides French lessons to individuals or groups of learners in their own homes. They teach to students aged from 14 to 70 and the course will be tailored to your needs on the basis of an initial evaluation test.
Where: Avenue Molière 188, 1050 Brussels
Online: www.cefr.be
CLL Language Centres
CLL Language Centres are affiliated with the Université Catholique de Louvain. They offer intensive courses in French, Dutch and English, as well as Chinese, Romanian, Spanish, Italian, German, Portuguese, Arabic, Japanese and Russian. There are two centers in Brussels and they cater for adults, children, and teenagers, with courses beginning at three points throughout the year.
Where: Rue de la Loi 23 (3rd floor), 1040 Brussels/ Avenue de Kraainem 61, 1200 Woluwe-Saint-Lambert
Online: www.cll.be
CPAB
CPAB gives lessons in the three official languages of Belgium, delivered to groups of 8 to 16 pupils. The lessons make great use of state of the art equipment and multi-media learning, including a language laboratory, computer rooms, and smart boards.
Where: Avenue Louise 113, 1050 Brussels
Online: www.cpab.net
Europa Language School
The Europa Language School is a not for profit organization which provides affordable language courses tailored to professionals, academics and people who are new to Brussels.
Where: Chaussée de Waterloo 717A, 1180 Brussels
Online: www.elsb.be
Eurospeak
The courses offered by Eurospeak range from 30-minute telephone lessons to 20-hour summer courses, and they are provided to organizations, schools, companies, and individuals.  
Where: Stassartstraat 49, 1050 Brussel
Online: www.eurospeak.be
Fondation 9
The courses offered by Foundation 9 utilize a range of interactive teaching methods and are tailored to meet the needs of the individual. The school itself was created as a partnership between the Université Libre de Bruxelles, the Brussels Chamber of Commerce (BECI) and the City of Brussels.  
Where: Avenue Louise 485, 1050 Brussels
Online: www.f9languages.eu
Languages Unlimited
Located close to the EU headquarters, Language Unlimited specializes in one-to-one sessions and also offers courses in making business presentations and writing reports in most European languages. As a language school with a strong business orientation, Language Unlimited also teaches courses in exam preparation, translation, interpretation, and presentation.
Where: Avenue de Broqueville 272, 1200 Brussels
Online: www.languages-unlimited.be
Lerian-Nti
Lerian-Nti has branches all over Belgium, including Brussels. The languages they teach include Dutch, French, English, German, Spanish and Italian and they allow students to piece together their own course utilising aspects such as immersion programmes, phone and Skype sessions, business courses and e-learning.
Where: Rue de la Loi 26, 1040 Brussels
Online: www.lerian-nti.be
OpenContext
OpenContext teaches Dutch, English, French, Spanish and German using a 'communicative method'. This means that all teachers are native speakers and only ever communicate in their native tongue. Students can access one-to-one sessions, private classes and Skype lessons.   
Where: Rue du Grand Hospice 34a, 1000 Brussels
Online: www.opencontext.be
Vrije Universiteit Brussels (VUB)
The VUB has an Academic Language Centre (ACTO) which provides state-subsidised lessons teaching French, Dutch, English, German, Italian, Spanish and Modern Greek at all levels. The minimum age is 16 and you must take a test to determine your current skill-level, although high demand means that taking the test doesn't guarantee a place on the course.
Where: Pleinlaan 5—3rd floor, 1050 Brussel
Online: www.my.vub.ac.be/en/acto